The first thing I do in the morning
is to feed our cat, Keio, who is clawing his way in to get me out of bed from 6am onwards. He's a Blue Burmese. He's lovely but demanding. Thankfully I'm a morning person.
My life changed
when I fell in love with magazines while I was growing up. My mum bought my sisters and I magazines. She thought it would encourage us to read. It all started with the Beano. As a child I made clothes and outfits out of the computer paper brought home by my Dad.
But it was the first issue of Just 17 that got me hooked . It came free with Smash Hits I was totally obsessed. I went to my careers teacher and said "I want to do fashion in magazines."
I used to collect so many magazines
but now I only keep British Vogues and old US Harpers Bazaars from the early 90's when Liz Tilberis was editor. Magazines were the main source of ideas and inspiration before the internet. Now that feels like a bygone era. I sometimes feel a pang of sadness about the copies of Italian and American Vogues that I threw away but they take up so much room and are so heavy when you move house.
Arabella's fashion book collection.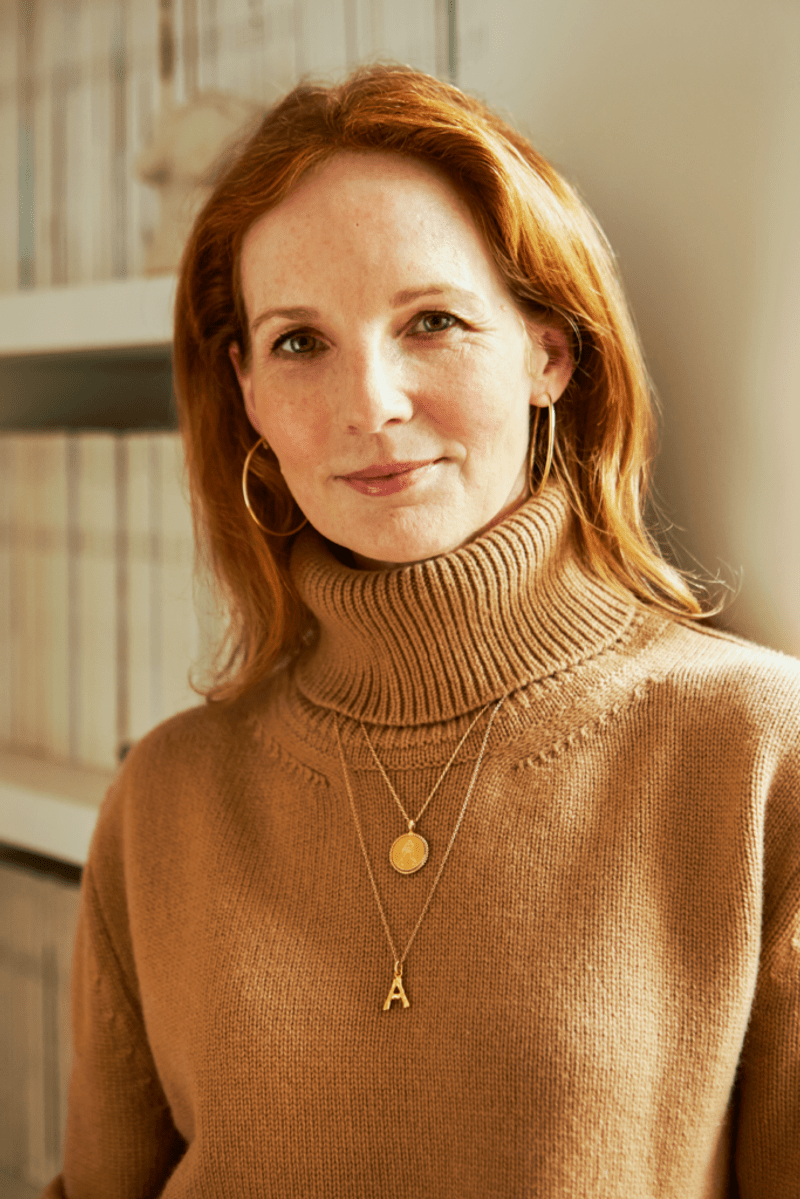 In the camel Smart Slouchy. Many, many Vogues behind.
Italian Vogue
used to give me so much inspiration. I love story telling with pictures and theirs were incredible and epic. Always so creative and pushing boundaries
My favourite shoot was in Japan
for Marie Claire. It was all shot in Tokyo. Half of it was in old, traditional Japan around the temples, tea rooms and incredible gardens with cherry blossom. The other half was in Shinjuku, the heart of Tokyo, amidst the pachinko parlours, the crowds and the neon screens. The clothes were really special pieces that complimented each location. There was also a deeper story about Japan and the extreme contrasts between the new and the old.
I feel most comfortable
in simple, looser clothes in great fabrics. I want to feel I am wearing the clothes and not feel they are wearing me. Anything too tight puts me in a bad mood. I have a summer uniform and a winter uniform. Summer is a great dress and sandals; winter is jeans and a cashmere sweater. Of course, I can get really dressed up for the fashion shows but that's not the real me.
Designer fashion
is all about what's on the catwalk. The head to toe look. One season it's about the 80s; the next it's something totally different. Are we supposed to buy it all again? We are moving towards naturally beautiful clothes that evolve more gently and thankfully there is more awareness of fashion's impact on the planet. Every time I buy something I ask myself "Could I wear it at least 30 times? If the answer is 'no', I don't buy it."
In fashion youth is so celebrated
particularly in this country. London has so much energy and is all about new ideas, which is amazing. I have lived and breathed the fashion industry for most of my life – the two months of fashion shows each year, the new trends, the constant new, new things.
There's a stark contrast with ceramics where expertise grows with age over decades and a profound respect exists for potters who carry on making into their 70s and 80s and who slowly evolve their art form across a whole lifetime.
The texture and feel
of everything is so important for me. I like to be able to touch, feel and try when I go shopping. It's a sensory thing. That's hard to get on the internet. I have been lucky enough to try on some incredible pieces of clothing over the years that cost thousands. Sometimes they were so uncomfortable that after a few minutes I couldn't wait to get them off.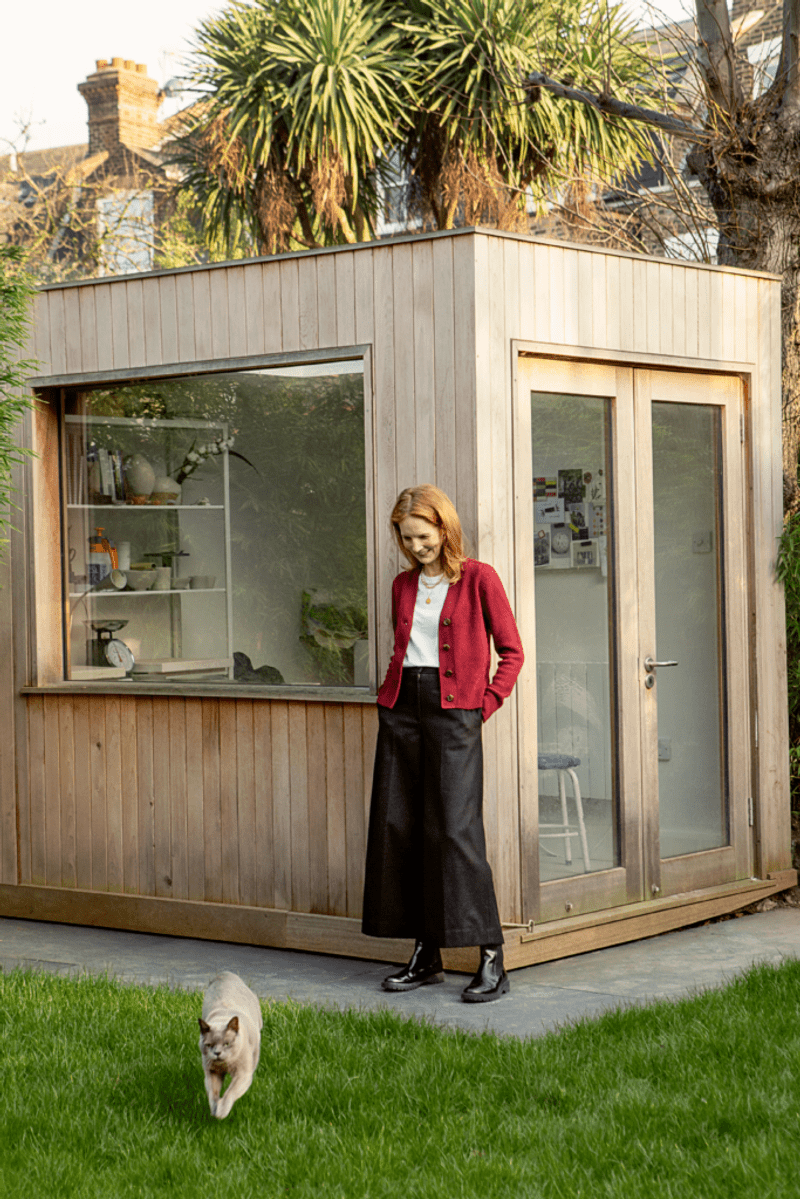 Arabella infront of her "potting shed" in the barolo Crucial Cardigan. Keio the cat does a runner.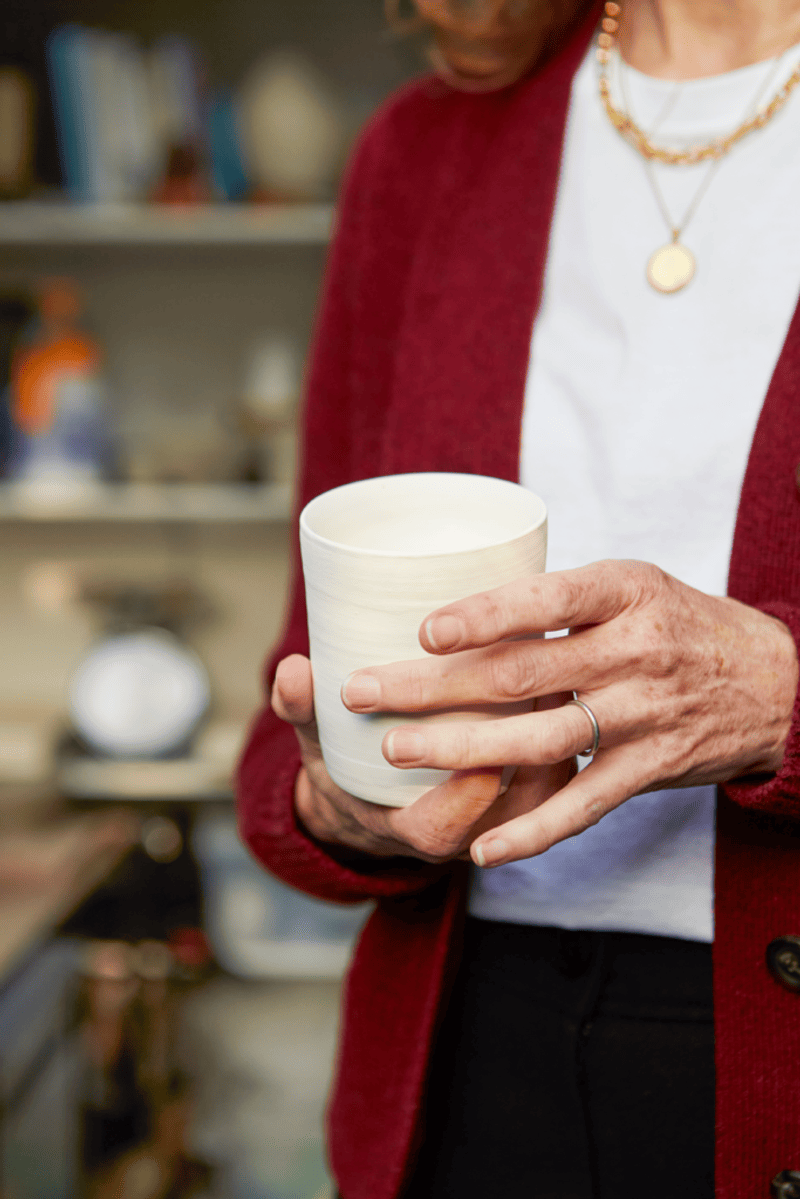 Work in progress.
My Grandmother was a potter and had a wheel
As children, my sisters and I used to go into her  studio and make things in clay. She loved making beakers – all very 70s inspired by Bernard Leach.
Then I bought a little bowl a few years ago, which I have my matcha latte in each morning. I love this little bowl. I love its weight, its shape, its texture, the glaze and I wanted to make something like it in case I broke it one day. So I signed up at City Lit for a ceramics starter course and it all snowballed from there.
Of all the pieces that I have made
my favourite is made out of clay that I dug from the riverbank at my mother-in-law's in Wales. I took the raw earth, dried it out, sieved it and turned it into clay. I made a bowl. The clay turns a beautiful, deep, reddish brown when fired. I started with a raw material and made it into something functional and useful.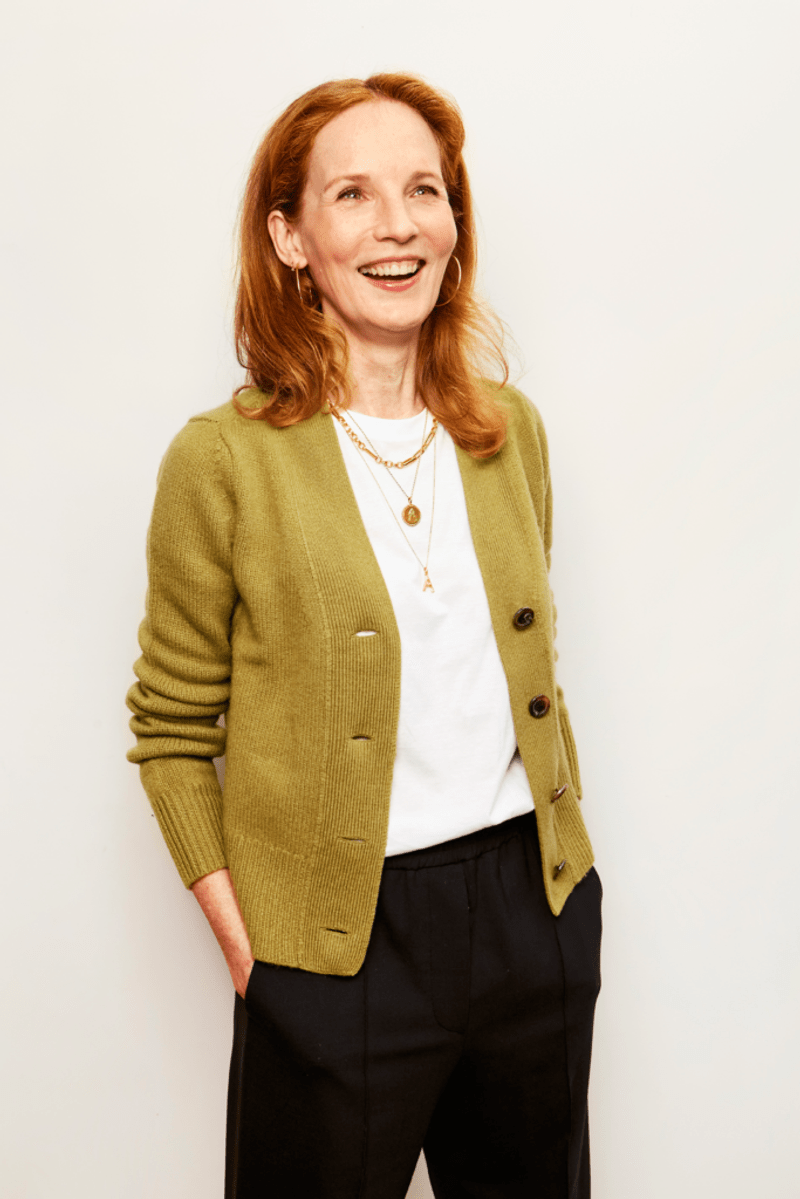 Arabella in the leaf Crucial Cardigan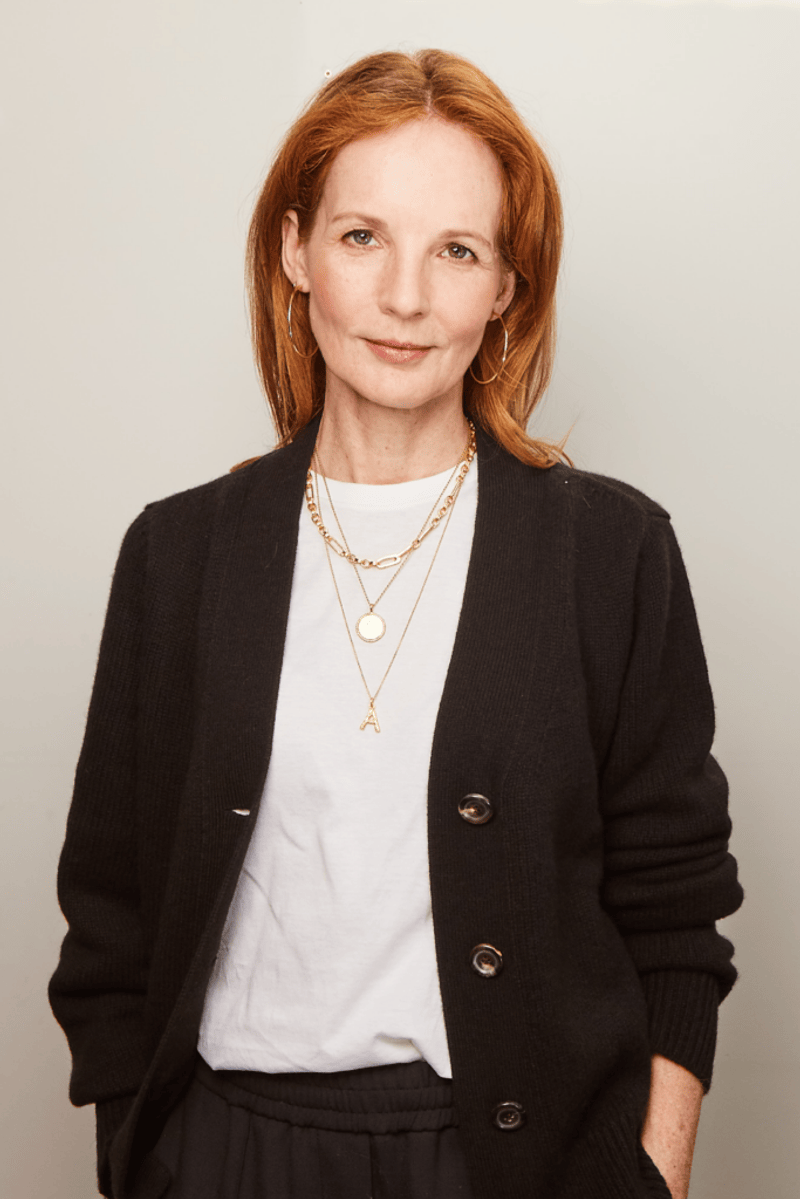 And in black
The last book that I bought and loved
was Marsh, a book of drawings and photographs by Harry Cory Wright. All the images are from Norfolk with its wide-open spaces and waterways. The paintings from his sketchpad are so simple but very beautiful and peaceful. I buy far too many books. Mainly photography, fashion and art. Now many ceramics books are being added to the collection.
Drawings by Harry Cory Wright
The gadget that I love most
is my £10 hand whisk from John Lewis. It froths my matcha latte perfectly every morning. I love how simple and useful it is. It makes me happy.
John Lewis Partners Whisk
I've worked with some amazing celebrities
over the years. I got a call one Friday evening and we left for the New York the following Tuesday to shoot Lauren Hutton. Lauren wasn't feeling great after a tricky day before.  But she was totally fabulous. The shoot was amazing. We got on so well. We really bonded and had such a great time. My wonderful friend Tom who was on the shoot with me asked her to write me a letter afterwards for my 50th birthday. I have it framed. It is really special.
The place I would most like to go
is Japan to see and study their ceramics. There are many 'ceramic' villages across the country such as Mashiko where the whole community is involved. I would love to spend time with these ceramicists who have dedicated their whole lives to the craft. Perhaps, when the kids have left home, I could do an apprenticeship out there.
The Japanese value
beautiful, crafted pieces in a way that we don't in the West. Spending your whole life perfecting the creation of a tea bowl sounds crazy here but is natural in Japan. The aesthetics of wabi-sabi with its acceptance of transience and imperfection are ones I feel very much at home with.
I did this amazing workshop
run by a friend of mine recently. She gave us a simple challenge. We may be in our 40s and 50s and think it is all downhill from now on but she pointed out that we could easily be around for another 40 years asked us 'What do you want to do with that time?'
My personal motto
is 'progress is better than perfection'. I will never make the perfect pot but I will keep trying. I will get better.
The Biggest Benefit Of Ageing
is simply not giving a ***k. That's it.
The last thing I do in the evening
is watch episodes of Bake Off on repeat even though I don't like cooking. I have watched them all so many times. I find it so relaxing , comforting and familiar that it sends me off to sleep.

The Great British Bake Off, Channel 4